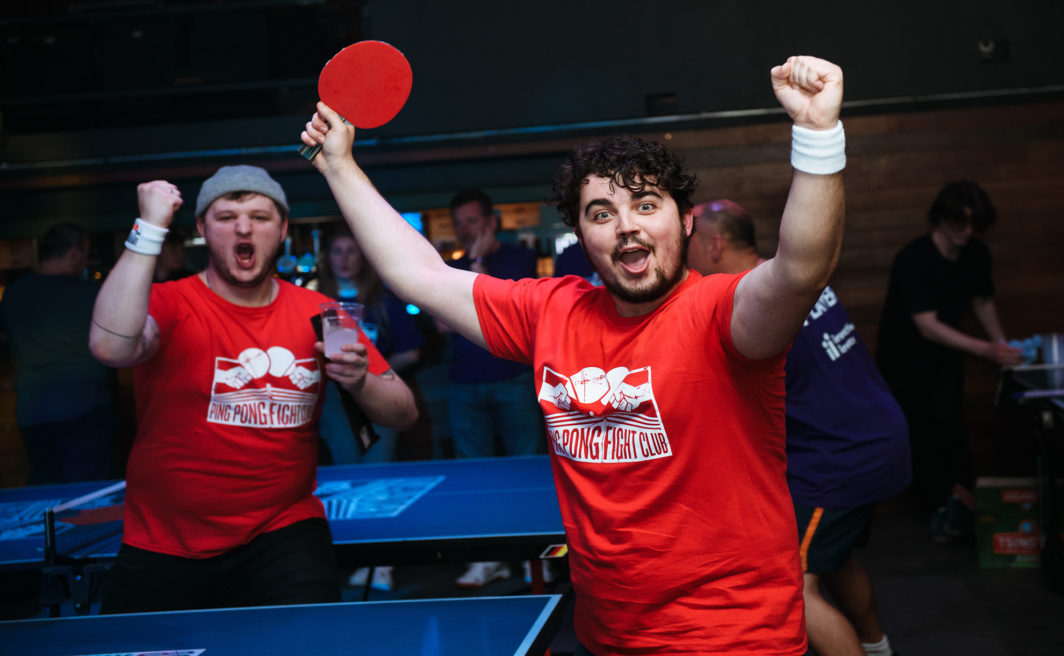 Ping Pong Fight Club Manchester 2019 - Is there such a thing as too much fun?
A massive thank you to all our companies who came out in force to take part in Ping Pong Fight Club Manchester 2019 at Gorilla. The energy, camaraderie and all-round tongue-in-cheekiness, not to mention the fierce ping pong rivalry, made for a memorable night out!
In no particular order, PPFC Manchester super heroes were:
AccessPay All women's Team– We sent Peter our Table Tennis England coach to their offices to get the team 'tournament ready'. They were all magnificent on the night and truly embodied the Ping Pong Fight Club spirit, demonstrating some silky skills, wit and gritty determination!
AccessPay A Team – Back for the second year serving up a brilliant brand of humour and ping pong prowess, on and off the tables!
Interactive Investor All women's team – Our aim at PPFC in partnership with Table Tennis England is to support and increase women's participation in the wonderful game of ping pong and welcomed another women's team into the PPFC family!
Interactive Investor A Team – Phil Petts our reigning champ returned to defend his title alongside his merry band of ping pong cohorts!
Netacea and Intechnica- Back again for the second year, these guys teamed up to form a fully integrated ping pong social machine!
Mojofuel– Cool creatives, their wit and fancy footwork didn't help on the tables but they definitely scored at the bar!
Manchester Metropolitan University- Powerhouse of ping pong prowess and brain power to match!
Mission Mars - Rebellious and unruly and super keen players, we heard they had been training at high altitude before Fight Club, don't think they ever came down!
Ping Pong Fight Club Manchester 2019 got underway with as our vibe master-in-chief DJ Thomas playing some serious bass-lined grooves for the players to warm up to and scope out the opposition.
Meanwhile, our ping pong party crowd headed off to enjoy Fight Club's smorgasbord of ping pong entertainment, special attention being given to the inter-company beer pong championships!
Fight Club favourite the Pongbot Challenge, our ping pong robot that takes on all-comers in a 60 second dual, also featured a hilarious two player double jumper face-off! With plenty of bar action, buddy up doubles, social play, tips and tricks from our pro players, the scene was set for a brilliant night of revelry, rivalry and camaraderie!

As new friends and 'frenemies' were forged across the tables, the tournament continued in the middle of the arena, as the players battled for their company's honour. Sinews were stretched, matches were hard fought and screams of jubilation and groans of commiseration played out in equal measure. However, like with all great sporting occasions, there were winners and those that did not win (but won anyway!)
Going into the Ping Pong Fight Club Manchester 2019 Hall of Fame:
Ping Pong Fight Club Championships: Champion Phil Petts (Interactive Investor for the second year!) / Runner-up–Dominic Golics (AccessPay)
Chancers Championship: Winner – Priyanka Rajenimbalkar (Interactive Investor)
Team Championships: Winners – Interactive Investor (most points scored in tournament)
Beer Pong Championships: Winners - Interactive Investor
Buddy -up Doubles Tournament: Interactive Investor (Priyanka

&

Dave Gibson)
Pongbot Challenge Championships: Netacea and Intechnica
Pongbot Doubles (new challenge) - AccessPay
Loudest Supporters Trophy: AccessPay (what a bloody noise they made!)
Huge big ups to all our amazing Ping Pong Fight Club crew that brought some order out of the chaos, our partners Table Tennis England for supporting our mission to increase the number of women playing the beautiful game across the UK (well done both our all-women's teams!) and Gorilla for letting us have their incredible venue to play, party and compete in the only way we know how: with more fun than you can shake a paddle at!
Book your place now for PPFC Manchester 2020 at https://pingpongfightclub.co.uk/manchester
Follow all the action from our 2019 Tour via our social media channels: (Twitter) @PingPongFightcl / (Fb) @pingpongfightclubofficial / (Insta) @pingpongfightclub
Next stop Leeds September 26th https://pingpongfightclub.co.uk/leeds

*All photographs taken by Jack Kirwin*