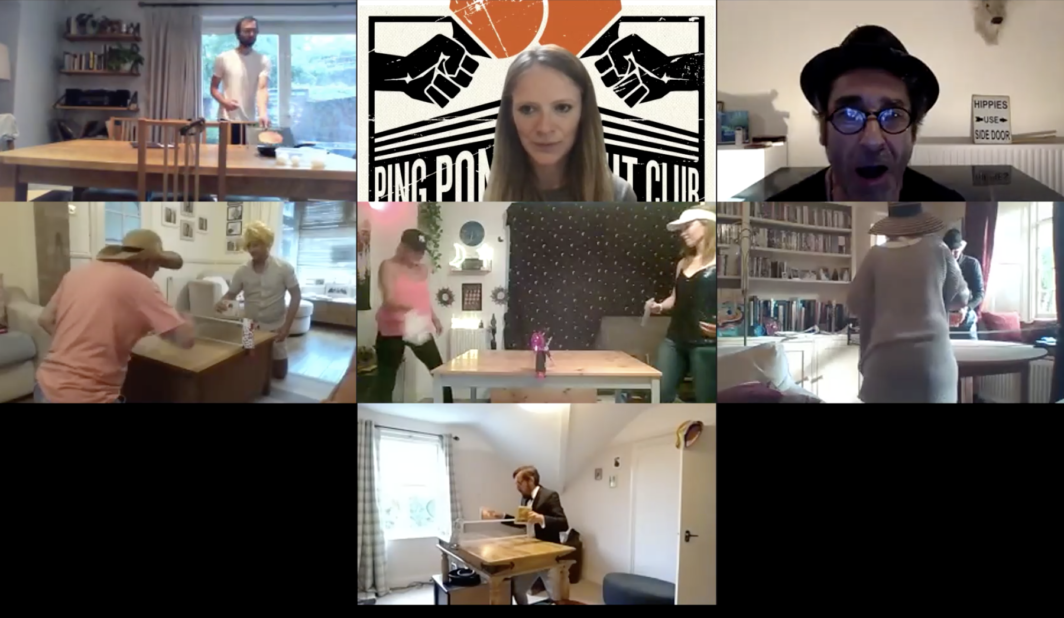 Ping Pong Fight Club's Online Challenge Show - launch highlights
Ping Pong Fight Club's Lockdown Challenge Show got off to a flying start last Saturday as teams went all out to impress! As host Ade Leigh presided over the initial challenge rules and schedule for the night, the teams went through their warmup drills and introduced themselves. Who would rise to the Challenge? Would it be the father and son combo from Cardiff 'The Welsh Dragons' or perhaps the 'Lockdown Ladettes' from the Catford Beach Club? (yes, we wondered about that too!) or indeed 'The Bearded Man' who definitely dressed to impress in full evening suit and dicky bow!
As all the teams assembled for Round One's 'Paddle Pong Challenge', it was clear this was a rowdy and competitive group of ping pong pugilists with Ade having to hit the 'mute' button on more than one occasion to retain some semblance of order.
It was clear that although The Lockdown Ladettes' were going to walk off with the 'Artistic Interpretation' award for donning a different hat each round, 'The Welsh Dragons' (also looking super sharp in their 70's pornstar get ups) had been practising in their DIY ping pong living room set up and were racking up the points.
The trivia round helped the teams to gain or lose ground as the leader board shifted. However, our panel of judges picked up some underhand ping pong skulduggery in the social distancing round from Kingpin who, on action replay, was found to be throwing all his balls into the fruit bowl in one go! He was to be named and shamed! Lastly, we must congratulate 'The Welsh Dragons' who served up a very entertaining brand of ping pong to run out as our winners!
Now you know what you missed, why not sign up your team to this week's Ping Pong Fight Club's Lockdown Challenge Show? Every Saturday at 6.30pm https://www.thebigsmokeevents.comg-pong-lockdown-challenge