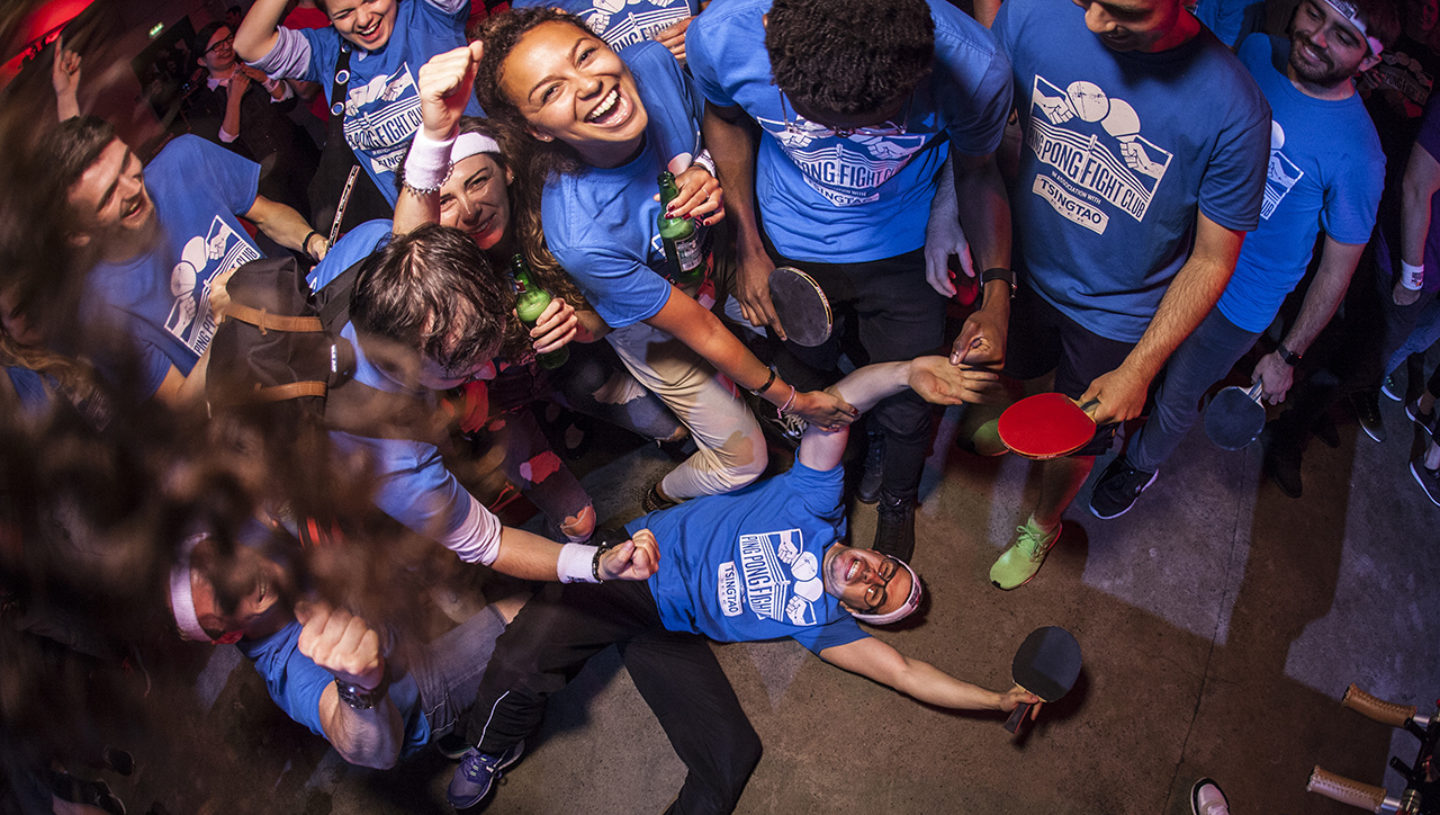 The underground social sport scene everyone's talking about…
Ping Pong Fight Club is a leading-edge social sports events brand
Founded in 2014 in Shoreditch as an annual event, now expanded to a year-round tour of 8 major cities
Fight clubs are escapist, exciting, energetic events with universal appeal — everyone can take part
A vastly different ice-breaking experience for thousands of newly adopted players
Atmosphere is everything — underground music, lighting rigs and industrial spaces
A new way to bond and motivate teams — engage, play, connect, repeat
Great scope for media coverage — recently featured on BBC Breakfast (1.9 million viewers, 31.7% audience share)
High production values, unexpected locations, unique photographic and video content
A close partnership with Table Tennis England on a shared mission to grow social ping pong play in the workplace
2020 tour — Liverpool, London, Manchester, Leeds, Cardiff, Bristol, with more to be announced
Break the mould of a traditional corporate night out, either by signing up to a Ping Pong Fight Club in your city or letting us create a special in-house event for you. Let's talk ping pong and make it happen!
Revelry, Rivalry, Camaraderie
In 2014 Pongathon created Ping Pong Fight Club (PPFC) — an annual inter-company ping pong tournament and party for tech start-ups. The event, held at Village Underground in Shoreditch attracted 16 companies (including Facebook, Spotify and Expedia amongst others), 500 people and widespread media attention, even getting a feature in the NY Times.

2017 saw PPFC embark on its first national tour, sponsored by Tsingtao Beer, attracting start-ups and sector leaders across four cities, the first event being held at the iconic Corn Exchange in Leeds. The companies loved it, proving that there was an appetite for PPFC outside of London.
The 2018 tour expanded to six cities with ninety companies taking part and over 1,500 attendees. 'Ping Pong Fight Club Takeover' — the first ever event open to the public — was tested at the Manchester Gorilla, and was much enjoyed by all. Widespread media attention for the tour included a BBC Breakfast Show feature presented by Mike Bushell viewed by over 1.9 million people.
A new partnership with Table Tennis England (the sport's national governing body) provided an opportunity for all companies signing up to PPFC to enter an all-women's team and receive professional coaching for free. It was an instant hit, with more women picking up a paddle in the workplace, showing off their ping pong skills and going for glory.
Now in it's fifth year, Ping Pong Fight Club's 'Choose Your Battleground Tour' has expanded to eight major cities across the UK in 2019, giving more companies than ever a hugely entertaining and memorable night out.
Behind the inter-company rivalry, fierce competition and smorgasbord of featured entertainment at Ping Pong Fight Club lay an inspirational driver: engagement.
We knew developing close-knit and productive relationships was a challenge for every company looking to recruit, train and retain their highest skilled personnel. What were these companies doing to foster productive relationships, break down departmental silos and encourage team working without resorting to traditional team-building activities that staff often dreaded taking part in?
Where these traditional team nights out had often fallen short of expectations, Ping Pong Fight Club aimed to exceed them. To our delight companies discovered their employee engagement strategy being developed right in front of them, through the event experience itself!
Everyone that takes part in Ping Pong Fight Club loves its energy, competitiveness and sociability: all of which combine to make it such an outstanding experience for companies wanting to nurture team bonding, or just treat their staff to a great night out.
Pongathon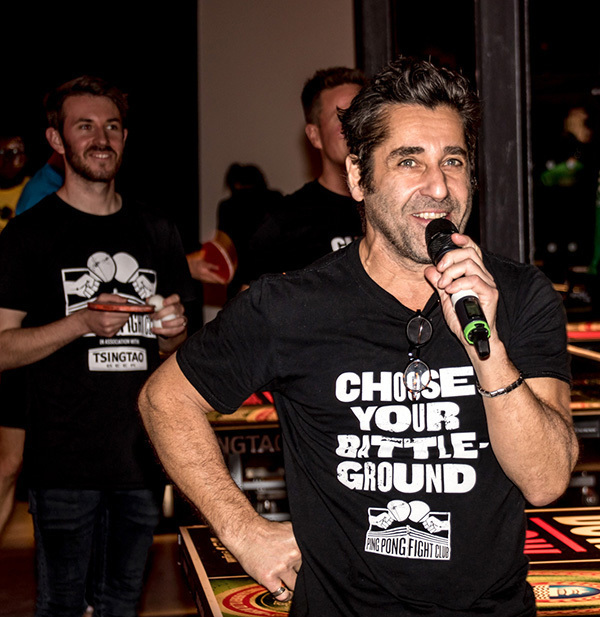 Ex junior county player turned music promoter Ade Leigh gave up playing table tennis at 16 when he discovered tennis offered him an outlet to socialise and make new friends through another racquet sport – something male-dominated table tennis, played in draughty church halls, scout huts and youth clubs could not compete with!

There followed a twenty-year career in the music industry as a club and festival promoter, band manager, publicist and booker. In 2010 he re-discovered his passion for ping pong when someone wheeled a table into his studio bar and suddenly, as if a light had been switched on the word 'Pongathon' appeared, and a new vision for the game emerged.
Ade wanted Pongathon to be a place where people could laugh, dance, learn how to play, socialise with their friends and work colleagues. Importantly, he wanted Pongathon to reach out and get the ping pong party started!
At the heart of the new enterprise was the firmly held belief that ping pong energised people's instinct to laugh, have fun, be active and was totally inclusive, meaning everyone — regardless of their skill or gender — could take part and enjoy the game from the very first ball hit.
Pongathon hosted a number of international events as well as hosting city residencies, exhibitions, expositions, national workplace and university programmes and spectacular installations (London Zoo, on top of O2 and even speed ping pong dating on the London Eye!) continuing to push the boundaries of innovative social ping pong engagement to a wider audience.
Download and check out our Pongathon Party Package pdf for 2020 and get in touch HERE