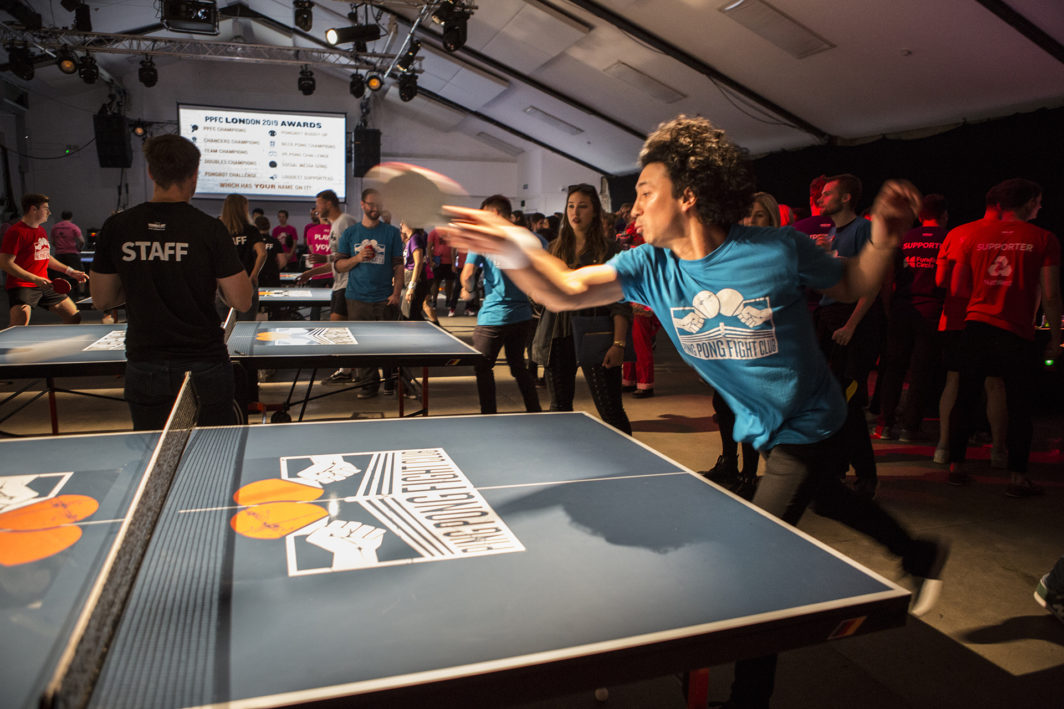 Ping Pong Fight Club London 2019 - Smashed it!
A massive thank you to all our amazing companies who came out in force to take part in Ping Pong Fight Club London 2019 at Oval Space. The energy, camaraderie and all-round tongue-in-cheekiness, not to mention the fierce ping pong rivalry, made for a memorable night out.

In no particular order, PPFC London super heroes were:
During the warm up we suffered a blackout in the arena due to a power cut in the whole street, so we had to keep calm and not panic about the ping pong! Fortunately, we ferried everyone to the outside bar where all our Ping Pong Fight Clubbers enjoyed food and drinks at sunset and LEON our magician, kept everyone entertained while we all prayed for the power to return in time for our tournament to start! Leon would be back to astonish us all later on in the evening!

In what seemed an eternity, Fight Club got underway with as our vibe master-in-chief DJ Thomas playing some serious bass-lined grooves for the players to warm up to and scope out the opposition.
Meanwhile, our ping pong party crowd headed off in packs to the festival of ping pong that awaited including our amazing @PongConnect state of the art, inter-active, beer pong tables, making their PPFC debut.
The Pongbot Challenge, our ping pong robot took on all-comers in a 60 second dual also featured a new edition of doubles involving 2 players squeezing into a two-person jumper! Our game developers had been busy preparing a new version of our VR ping pong challenge (ready for the night) - this time going head to head against a virtual reality ping pong robot in a New York loft! The buddy up doubles and social play also kept the crowd busy and 'battle scars and butterflies' from our resident face-painter Anna from Snapdragon ensured everyone had their 'Fight Club Face' on ready to do battle.
As the ping pong entertainment brought new friends and 'frenemies' together, the tournament continued in the middle of the arena, as the players battled for their company's honour. Sinews were stretched, matches were hard fought and screams of jubilation and groans of commiseration played out in equal measure. However, like with all great sporting occasions, there were winners and those that did not win (but won anyway!)
Going into the Ping Pong Fight Club London 2019 Hall of Fame:
Ping Pong Fight Club Championships: Champion Phil Thomas (Funding Circle) / Runner-up – Julien Campen (Funding Circle)
Chancers Championship: Winner – Hasier Rodriguez (from YoYo) / Runner-up Dan Brown (Tetrad Discovery)
Team Championships: Winners – Funding Circle (most points scored in tournament)
@Pong Connect Beer Pong Championships: Winners - Funding Circle
Buddy -up Doubles Tournament: Tom and Dan from Natwest
Pongbot Challenge Championships: Funding Circle with a score of 59
Pongbot Doubles (new challenge) - Arthur

&

Antoine from Natwest
VR Ping Pong Champion: Alex Sanje (Funding Circle)
Loudest Supporters Trophy: Funding Circle
Social Media Gong (New award given out to the most creative/funny tweet/post): Just Eat
Huge big ups to all our amazing Ping Pong Fight Club crew that brought some order out of the chaos, our partners Table Tennis England for supporting our mission to increase the number of women playing the beautiful game across the UK (well done Funding Circle all-women's team!) and Oval Space for letting us have their incredible venue to play, party and compete in the only way we know how: with more fun than you can shake a paddle at!
Book your place now for PPFC London 2020 at http://www.pingpongfightclub.co.uk/london and follow all the action from our 2019 Tour via our social media channels: (Twitter) @PingPongFightcl / (Fb) @pingpongfightclubofficial / (Insta) @pingpongfightclub
Next stop Manchester on June 13th www.pingpongfightclub.co.uk/lo…
*All photographs taken by Coco Edwards and Mati Kaim*