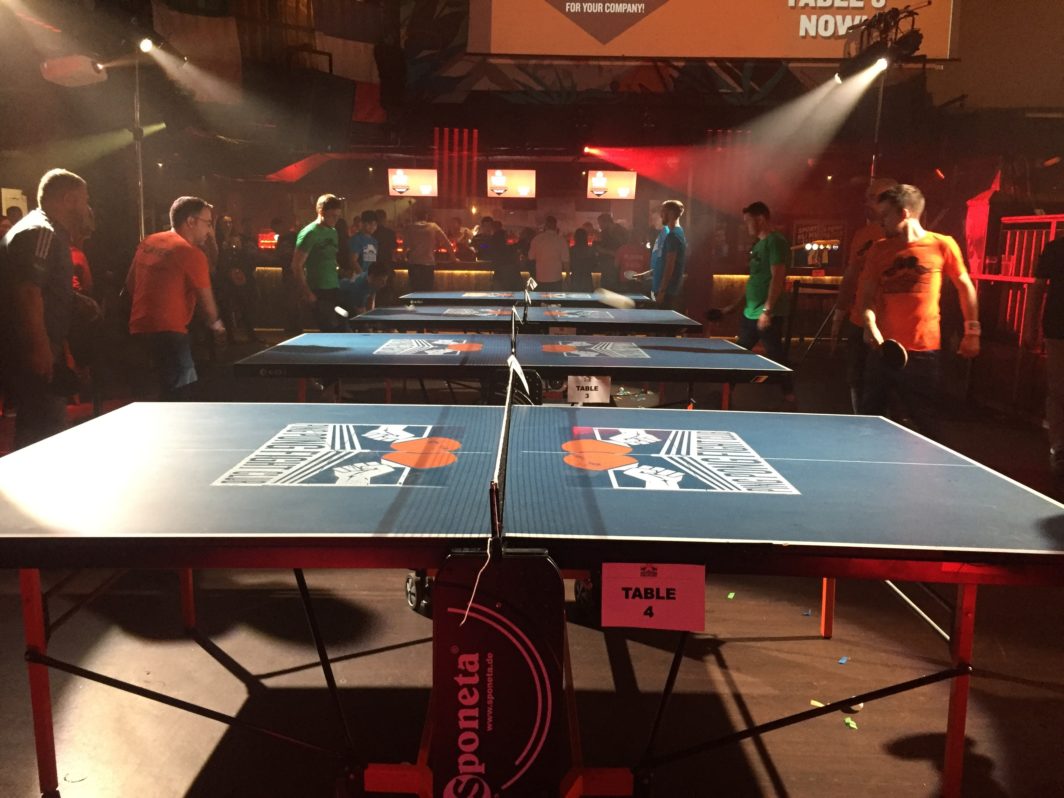 Ping Pong Fight Club Cardiff – Game, Set and Match!
What a fast, fun and furious(!) night out enjoyed by all, with tons going on for players and supporters alike. Ade was a fantastic host and we look forward to next year! Big ups to Ade & the PPFC crew! Phil Hawkins - Creditsafe

A massive thank you to all our amazing companies who came out in force to take part in the first ever Ping Pong Fight Club in Cardiff at Walkabout. The energy, camaraderie and all-round tongue-in-cheekiness, not to mention the fierce ping pong rivalry, made for a spectacular and memorable night out.
PPFC Cardiff super heroes were:
Amber Energy All women's Team – A Table Tennis Wales coach went to their offices to get them 'tournament ready'. They were all magnificent on the night and truly embodied the Ping Pong Fight Club spirit, demonstrating some silky skills, wit and gritty determination!
Amber Energy A Team – Crowd surging into PPFC Cardiff for the first time, left their mark at the tables and the bar!
Creditsafe - Ping Pong Fight Club winners of the loudest supporters trophy and plenty of ping prowess on display!
Veygo UK – Rowdy, unruly, disruptive…can't wait to have them back next year!
BT - Served up a brilliant brand of ping pong humour, bang up for it on and off the tables!
Swansea University – Keen as mustard and a credit to Cardiff. Saw a few eying up prospective future employers!
The Goodwash Company- A fully integrated ping pong social machine! They move, groove and know how to get the party started (and finish it!)
Visible Art - Rebellious and unruly and super keen, big time social ping pongsters!
S3 Advertising– High-energy fun-loving group of marketeers, movers and shakers with enough energy to light up a small city, we'll be sure to plug in again with them next year.
Ping Pong Fight Club got underway with as our vibe master-in-chief DJ Thomas playing some serious bass-lined grooves for the players to warm up to and scope out the opposition.
Meanwhile, our ping pong party crowd headed off in packs to the beer pong table and The Pongbot Challenge, where our hosts awaited the 'sink n' drink teams and our ping pong robot took on all-comers in a 30 second dual! The buddy up doubles and social play kept our feverish crowd absorbed as plenty of bar action kept them fuelled and ensured the backchat and banter hit the red zone, with new friends and 'frenemies' being forged between Cardiff's prime disruptors!
As the tournament continued in the middle of the arena, our gladiators battled for their company's honour. Sinews were stretched, matches were hard fought and screams of jubilation and groans of commiseration played out in equal measure. However, like with all great sporting occasions, there were winners and those that did not win (but won anyway!).
Going into the Ping Pong Fight Club Cardiff 2019 Hall of Fame:
Ping Pong Fight Club Cardiff Champion: Marc Castro – Swansea University / Runner-up: Runner-up Chris Evans - BT
Chancers Championship: Winner – Josh Tucker – Veygo UK / Runner up- Steffan Mitchell – S3 Advertising
Team Championships: Winners – (most points scored in tournament) - BT
Beer Pong Championships: Winners - Swansea University
Buddy-up Doubles Tournament: Nic Proctor

&

Joao Pinto – Amber Energy
Pongbot Challenge Championships: Marc Castro – Swansea University
Loudest Supporters Trophy: Creditsafe
Huge big ups to all our amazing Ping Pong Fight Club crew that brought some order out of the chaos, our partners Table Tennis Wales for supporting our mission to spread the gospel of ping pong and Walkabout for letting us have their incredible venue to play, party and compete in.
We will be announcing the new Cardiff 2020 date shortly so please sign up to our newsletter for all the lastest news and follow all the action from our 2019 Tour via our social media channels: (Twitter) @PingPongFightcl / (Fb) @pingpongfightclubofficial / (Insta) @pingpongfightclub
Next stop is Ping Pong Fight Club Bristol on November 7th www.pingpongfightclub.co.uk/br…