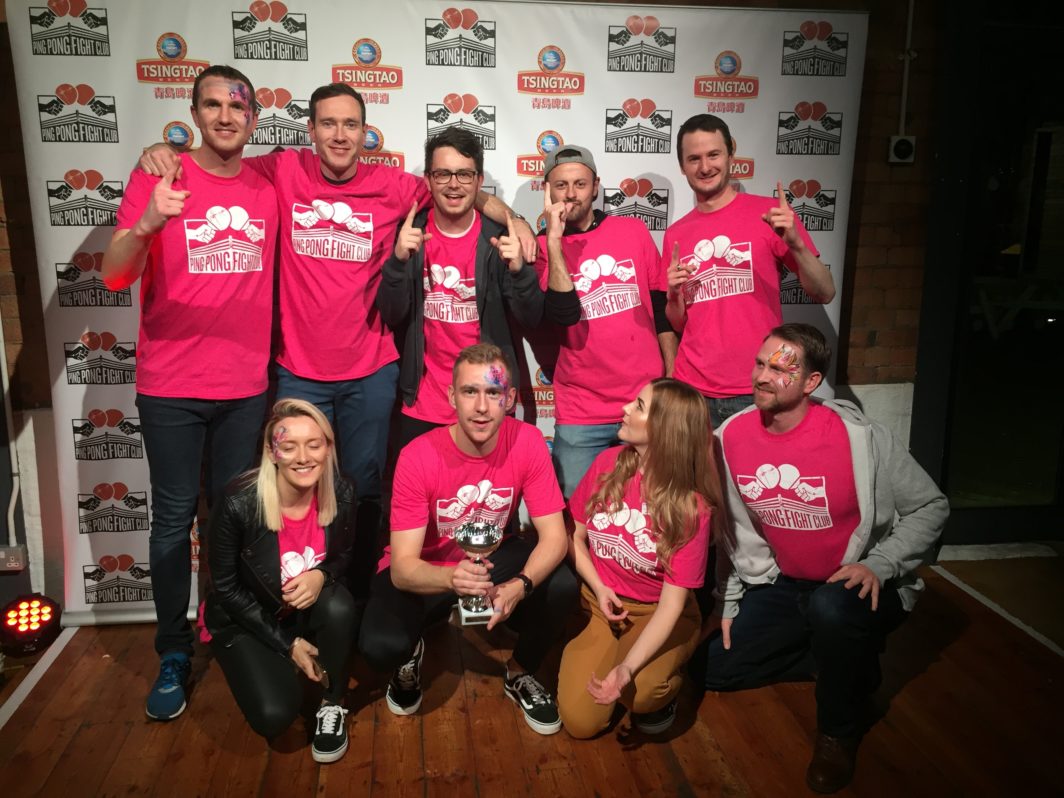 Ping Pong Fight Club Bristol 2019 - A city that knows how to ping pong party!
"An unforgettable evening and an electric atmosphere. It is very unique and something that has to be done. I can confirm PRG will definitely be attending next year (if we are invited back) to defend our loudest supporters' trophy" Michael Collins - PRG
A huge thank you to all our amazing companies who made it a record-breaking attendance at Ping Pong Fight Club Bristol 2019. The energy, camaraderie and all-round tongue-in-cheekiness, not to mention the fierce ping pong rivalry, made for a spectacular and memorable night at Paintworks.
PPFC Bristol 2019 line up:
Ping Pong Fight Club got underway with our vibe master-in-chief DJ Thomas from Paris playing some serious bass-lined grooves and classic beats, as the players arrived to warm up and scope out the opposition.
Ping Pong Fight Club is all about making new friends and 'frenemies', a chance to meet like-minded 'rivals' or partake in potentially fruitful networking, whether that be across the tables or as a doubles team in our 'buddy-up' tournament. For the more libatiously minded, there was a chance to compete in the inter-company beer pong championships, with the more competitive folk heading to the 'Pongbot Challenge' to face our ping pong robots in a 30 second dual!
As the group rounds got underway, the intensity of the players and supporters went up a notch. Every game in the group rounds was a mix of victorious adulation and almost inconsolable disappointment, as the crowds sighed or fist pumped the air in support of their champions!

Sinews were stretched, matches were hard fought and screams of jubilation and groans of commiseration played out in equal measure. However, like with all great sporting occasions, there were winners and those that did not win (but won anyway!)
Going into the Ping Pong Fight Club Bristol 2019 Hall of Fame:
Ping Pong Fight Club Bristol Championships: Greg Kroll (One Hit Wonders) Runner-up: Ian Johnson (Six Degrees)
Chancers Championship: Winner - Oliver Roper (Smith and Williamson) / Runner up: Jensen Welch (Smith and Williamson)
Team Championships: Winners – (most points scored in tournament) – One Hit Wonders
Beer Pong Championships: Winners – Smith and Williamson
Buddy-up Doubles Tournament: Orcan and Simon (Bishop Fleming)
Pongbot Challenge Championships: Kieran (PRG)
Loudest Supporters Trophy: PRG
Huge big ups to all our amazing Ping Pong Fight Club crew that brought some order out of the chaos, our partners Table Tennis England for supporting our mission to spread the gospel of ping pong and Paintworks for letting us have their incredible venue to play, party and compete in.
We will be announcing Bristol 2020very soon at www.pingpongfightclub.co.uk/bristol and you can follow all the action from our 2020 Tour via our social media channels: (Twitter) @PingPongFightcl / (Fb) @pingpongfightclubofficial / (Insta) @pingpongfightclub
Next stop is Ping Pong Fight Club London March 19th 2020 www.pingpongfightclub.co.uk/London