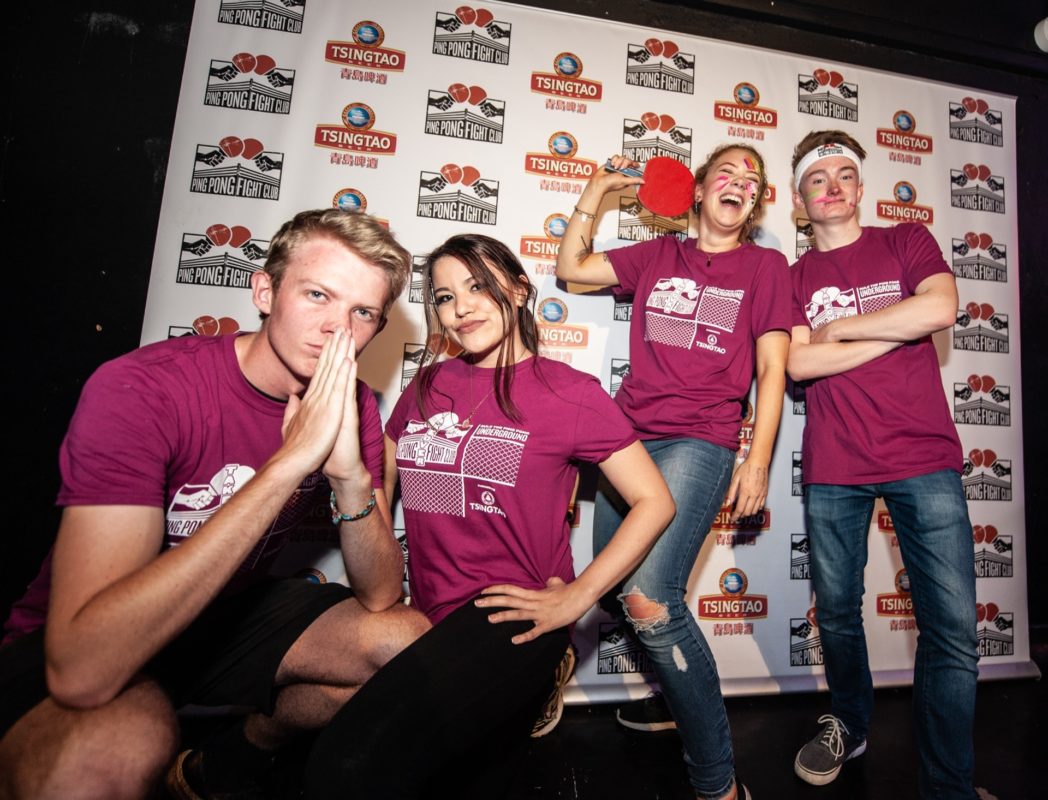 Ping Pong Fight Club Takeover launch, Gorilla, Manchester 2018
PPFC Takeover launches in style!
"The First rule of fight club is, you don't talk about it…. However, with Ping Pong Fight Club you should be shouting about it from the roof tops. Such a good and unique experience with a group of mates or team building, what is not to like - good beer, great food, music that rocks and the chance to smash the opposition at ping pong all night. Its a must do on the Manchester social calendar, See you next time" - Ian Boulger, Team Outgoing
A massive thank you to all our maverick teams who came out in force to take part in the launch of our first ever Ping Pong Fight Club Takeover, (open to the public) in Manchester on September 26th. The energy, humour, rivalry and all-round tongue-in-cheekiness made for a memorable night with - no doubt - plenty of action replays the following morning!
Huge big ups to Tsingtao Beer, our sponsors who have supported our ever-expanding UK Tour, all our amazing Ping Pong Fight Club crew, Table Tennis England for supporting our mission to increase the number of women playing, and the Gorilla venue team for letting us have the space to play, party and compete in the only way we know how: with more fun than you can shake a paddle at!
In no particular order, but all ping pong heroes:
'YouveBeenServed' –They came, they served, they rocked it!
Mojofuel – Can't play, don't care, having a ball!
Outgoing – Incoming! They led the way… in all directions!
MMU – Special mention to the all-women's team. Great sports and caused more than a few moments of jaw dropping astonishment at their ping pong skills!
UOM TTC – Came out in force and came out on top, recently spotted in high altitude training!
TT Muppet Crew – No finer example of witty repartee and ping pong banter!
Mission Mars – Landed safely but found the going a bit rocky!
Manchester's Finest – The hairy crew styled it out big time and made the night with their presence!
Against a backdrop of floor-filling 'chunes' from DJ Thomas, the party never stopped from early doors. Paddles flaying, balls flying and challengers lining up to be battered by our double Olympian Andrew Holt, who was taking on all-comers and playing with a frying pan!
As the ping pong entertainment brought new friends and 'frenemies' together, the fighting continued in the middle of the arena, as the teams went head-to-head for their team's honour, including the spicy sub-plot of Manchester's two biggest universities battling for the bragging rights.
Sinews were stretched, matches were hard fought and screams of jubilation and groans of commiseration played out in equal measure. However, like with all great sporting occasions, there were winners and those that did not win (but won anyway!)
Going into the Ping Pong Fight Club Hall of Fame:

Ping Pong Fight Club Takeover Championships: Winner Matthew Gold (UOM) /Runner-up Toby Bertram (UOM)
Team Championships: Winners - UOM TTC
Chancers Championships: Winner - Danny Campbell (Outgoing) / Runner-up Sarah Geberowicz (MMU)
Doubles Championships: Winners Simon & Chris as Team Hurricane
Tsingtao's Beer Pong Championships: Winners Alex & Molly as Team Shining
Pongbot Challenge: Winner - Toby Bartram (UOM) with a score of 65 returns in 60 seconds
Style Award: Winner - Ben from Youve BeenServed (Unilad)

You have our permission to break the first rule of Ping Pong Fight Club and tell everyone! Follow the October action at PPFC Leeds at @PingPongFightCl
See you all next year!