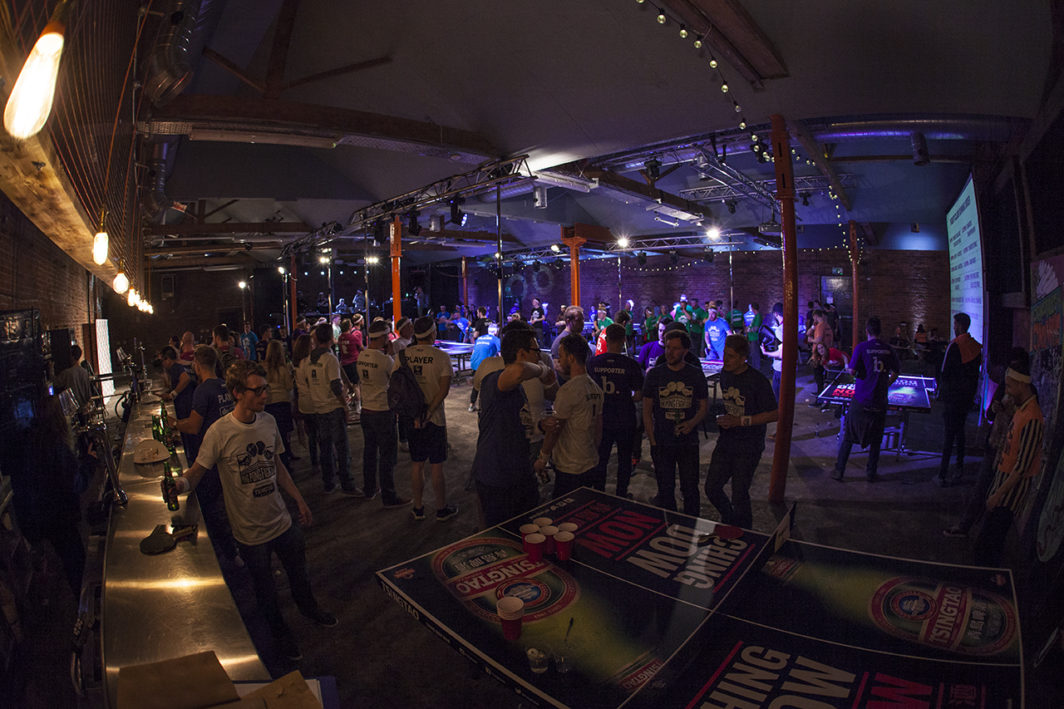 Ping Pong Fight Club sponsored by Tsingtao Beer salute Leeds 2018!
Leeds companies lift the roof on an unstoppable UK tour….
After the hugely successful launch in 2017 at the Corn Exchange, would Ping Pong Fight Club turn out to be just a one hit wonder (get it?!), or could it deliver another tour de force of inter-company ping pong rivalry, revelry and camaraderie?  
With an amazing venue at Canal Mills we wanted to recreate the edgy underground atmosphere of the movie and as soon as our teams entered the arena, we knew it was 'Game On'!
DJ Thomas from Paris, our resident vibe-master-in-chief set the mood as people donned their company colours, positioned their headbands, applied the war paint (from our amazing face painter Shania) and headed to the tables (via the bar, naturally!).
We welcomed our amazing participants to Ping Pong Fight Club Leeds 2018:
Bolser – Multi award-winning, fun-loving digital marketing agency, here for the second year and current Chancers Champions, aiming to add some more silverware to the trophy cabinet and to debut the Bolser All-Women's Team!  These women only had 1 coaching session from Ping Pong Fight Club pro Peter to get them into shape, however, if we were awarding points for attitude they would have bagged all the trophies long before we started!  
Round Creative – Digital design & creative agency, newbies with no shortage of self-deprecation revelled in the craziness that is the social media build-up to Fight Club. We had a feeling they'd use their pithy wit as a lethal weapon against their opponents on the night!  
John Lewis Retail – These guys had thrown more shapes than a Playdough factory last year! Definitely not a team to be underestimated, at the tables or at the bar!  
Tetrad Discovery – Bio-tech titans and original Ping Pong Fight Clubbers who compete, play and party in every major city with us!  
Team Emmerdale –Great friends of Ping Pong Fight Club, back in for the second season of drama! There was a general warning given: no cheap shots at any Dingles or you'd have an early shower!  
Brass Agency – PPFC newbies, this creative marketing agency brought with them a reputation for mixing things up thanks to their collective of creative and strategic thinkers who know how to connect with, and influence, audiences: but could they play and party just as hard?  
Sky Betting and Gaming – Our defending champions were back and backing themselves again to retain their title. Our advice was to check the odds first!  
Last but not least we welcomed Martinez Wines to their very first Fight Club – Robust, full-bodied and very cheeky by all accounts and that wasn't the wine!  They were to become legends of Ping Pong Fight Club…..
It was a night set for making friends and frenemies, as Ping Pong Fight Club burst into life when the Pongbot Team Challenge got underway.  Our very own ping pong robot was soon taking on all-comers in a 60 second dual with each company having their top 5 scores (based on the number of successful returns) aggregated to feature in the leader board.
A few tribes of supporters made a bee-line for the large red cups, heralding the start of Tsingtao's Inter-company Beer Pong Championships, a dangerous pre-warm up for the players but just the right challenge for those on 'strictly social' pursuits! Buddy-up tournaments, friendly challenges, great nosh and complementary drinks from Tsingtao Beer whetted the appetite for the 'Fight' ahead: 36 players about to go into battle for their company's honour.  And for those unable to make the cut, the Chancers Championships awaited and another crack at glory!
As the group rounds got underway, the intensity of the players and supporters went up a notch. Every game in the group rounds was a mix of victorious adulation and dejected disappointment, as the crowds sighed and fist pumped the air in equal measures!
Round Agency had fielded a strong team, although they had deliberately played the underdog card whilst Bolser had upped their game and, as for Brass: what they lacked in ping pong prowess was more than compensated by their gung-ho party spirit!
Team Emmerdale were looking athletic and determined whilst John Lewis had clearly set out to intimidate the opposition with their ping pong poker faces (a cunning ploy). Defending champs Sky Betting were out to win and had evidently spent weeks in hibernation practising for this event. However, dark horses Martinez Wines had decided to use comedy as a weapon and were cutting the opposition down in stitches with entertainingly distracting dance moves between points and highly illegal serves! Hardy perennials Tetrad Discovery had lost their number 1 player so were doubling their efforts with a massive charm offensive designed to lull their opposition into a false sense of security (spoiler: it didn't work!)
Last but not least, the Bolser All-Women's team gave a monumental display of grit and grace under pressure  (okay maybe not all the time!), winning over not just their own supporters but many others in the process.
As we got into the knockout stages, Sky Betting defending champion Andrew Gradwell was looking in top form as was his counterpart Willie Lok in the opposite half of the draw. Would it be an all Sky Bet Final? Standing in their way in the semi-finals were Adrian Herron from Tetrad Discovery and Theo Wightman from Bolser. Meanwhile, there had been an exciting finale to the Chancers Championships where Eliza Wyss had become our new champion amidst scenes of carefree joy and merry-making amongst her legion of John Lewis supporters.
The Final! Andrew and Willie had dispatched their opponents and now met in the Final! Andrew, the consummate Mr. Cool with flawless technique, against Willie the  'Spin Doctor' Lok! As the arena lights fell and the spots shone onto the championship table the battle commenced. The crowd were treated to a spectacle of outstanding skill and placement with both players pushing hard, playing all-out attack mixed with incredible defence. And so it was Andrew Gradwell (the boss of Willy Lok btw!), having been 2 match points down, who came back to win and retain his title for the second year running! Confetti cannons, a well-earned drink from the PPFC trophy cup, wild scenes of celebrations and the end of another memorable PPFC Leeds 2018!
We'll see you all next year!
"Our Martinez wines team were not sure what to expect from our first taste of Ping Pong Fight Club. We were delighted with the night which was entertaining, exhilarating and a true team building experience" -  Jonathan Cocker MD Martinez wines, Famously Independent.
Ping Pong Fight Club Leeds 2018 – official winners:
PPFC Leeds 2018 Winner: Andrew Gradwell - Sky Betting

&

Gaming
Chancers Championships Winner: Eliza Wyss - John Lewis
PPFC Team Championships: 

3rd Place: Bolser
2nd Place: Team Emmerdale
1st Place: Sky Betting

&

Gaming
Tsingtao Beer Pong Champions: Martinez Wines
Social Doubles Champions: Rob Randerson

&

Owen Rowlands - Team Emmerdale
Pongbot Team Champions: Team Emmerdale