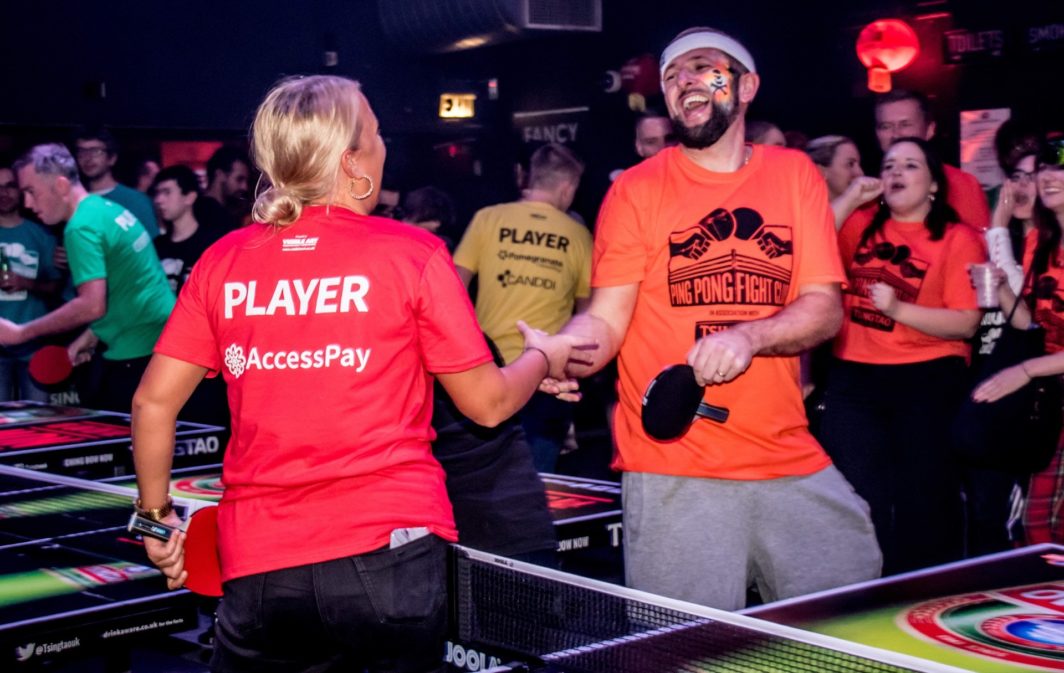 Ping Pong Fight Club smashes Manchester!
Nobody escaped having an amazing time at Ping Pong Fight Club!
"We didn't stop laughing, cheering and jumping up and down. PPFC is an absolutely awesome night out with your work buddies. Ade and his team create a great atmosphere, top tunes and plenty of fun. Don't hesitate to sign up: it will be a night to remember. We can't wait for next year!" Karey Wardaugh - Shoot The Moon
A massive thank you to all our maverick companies who came out in force to take part in Ping Pong Fight Club's debut in Manchester on September 27th. The energy, humour, rivalry and all round tongue-in-cheekiness made for a memorable night with - no doubt - plenty of action replays in the office the following morning!
Huge big ups to Tsingtao Beer, our sponsors who have supported our ever-expanding UK Tour, all our amazing Ping Pong Fight Club crew, Table Tennis England for supporting our mission to increase the number of women playing, and the Gorilla venue team for letting us have the space to play, party and compete in the only way we know how: with more fun than you can shake a paddle at!
In no particular order, but all ping pong heroes:
AccessPay Women's Team – We sent a Table Tennis England coach to their offices to get them 'tournament ready'. They were all magnificent on the night and truly embodied the Ping Pong Fight Club spirit of inclusivity
AccessPay – Rowdy, unruly…can't wait to have them back!
Interactive Investor – the smiling assassins who came, saw and conquered all before them…buggers!
Coronation Street – Always 'good to go', the Corrie team rolled up and rocked it!
Pomegranate and Canddi – Double trouble from our first joint venture team!
Netacea – Ping pong bar flies! Never seemed to be without a Tsingtao (pronounced 'Ching- Dow') and certainly put the 'social' into social play!
Intechnica – Never without a smile and totally game for a laugh!
Shoot The Moon – ping pong pugilists and all round firebrands, they kept the party going and claimed the Loudest Supporters trophy!
J2 Recruitment – Too busy working the room lol!
Against a backdrop of floor-filling 'chunes' from DJ Thomas, the party never stopped from early doors. Even Mike Bushel from BBC Breakfast popped in with a cameraman to see what PPFC was all about – only to leave three hours later. (They probably needed a few Tsingtao's after being battered by our double Olympian Andrew Holt who was taking on all-comers and playing with a frying pan!)
As the ping pong entertainment brought new friends and new businesses together, the fighting continued in the middle of the arena, as the teams went head-to-head for their company's honour. Sinews were stretched, matches were hard fought and screams of jubilation and groans of commiseration played out in equal measure. However, like with all great sporting occasions, there were winners and those that did not win (but won anyway!)
Going into the Ping Pong Fight Club Hall of Fame:
Ping Pong Fight Club Final: Champion Phil Petts (Interactive Investor) / Runner-up - Richard Wilson (Interactive Investor)
Chancers Championship Final: Winner - Nickie Lister (Team Corrie) / Runner-up Eugene Piechure (Netacea)
Team Championships: Winners - Interactive Investor
Tsingtao Beer Pong Championships: Winners - Ryan, Tom, Jack, Russell of Team Corrie
Social Doubles: Winners - Tristan

&

Mikey of Team Corrie
Pongbot Challenge Championships: Christian Jones of AccessPay
Loudest Supporters Trophy: Shoot The Moon
You have our permission to break the first rule of Ping Pong Fight Club and tell everyone! You can register your interest for next year at
www.pingpongfightclub.co.uk/ma… and follow the October action at PPFC Leeds at @PingPongFightCl