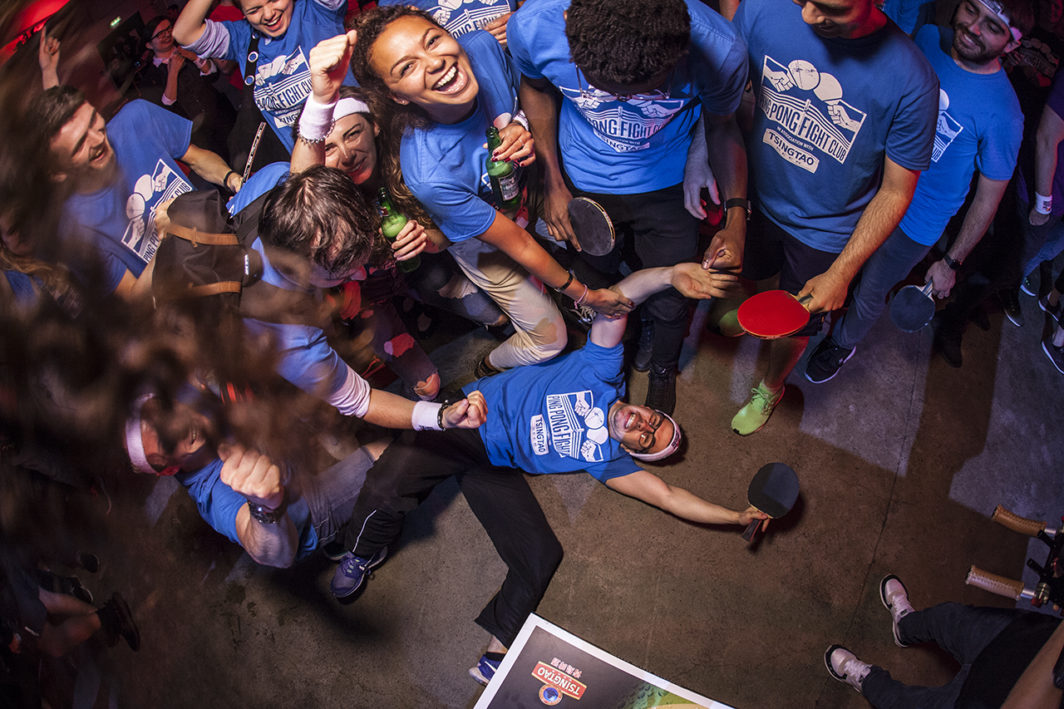 Ping Pong Fight Club London 2018 sponsored by Tsingtao Beer - Rivalry, Revelry and way too much FUN!
June 14th Oval Space - We welcomed maverick companies from across the city to compete, party and play at Ping Pong Fight Club London 2018, third stop on Fight Club's UK tour!
As soon as we knew the line up it was Game On!
Yoyo Wallet, bouncing into Ping Pong Fight Club for the first time, Europe's fastest-growing mobile payment app, with mobile payment and rewards rolled into one… but would they be rewarded for their ping pong prowess?
Tetrad Discovery - Bio tech titans and original Ping Pong Fight Clubbers, our torch bearers that compete, play and party in every major city with us!
Funding Circle - Former 3 times Ping Pong Fight Club Champions and the world's leading platform for small business lending. A force to be reckoned with but could they make it a 4th title with ex champion Luis Pinto in their team?
For the first time an all ladies team was coming to compete, party and play on behalf of Funding Circle! They had received only 1 coaching session the week before from our pro Nicholas Li but were super keen to get involved. This initiative was in partnership with Table Tennis England and Loop at Work, helping us to develop and encourage greater female ping pong participation in the workplace and across the UK at Ping Pong Fight Club's.
Carwow - Making buying a new car hassle-free and haggle-free! In their team was another ex Ping Pong Fight Club Champion (ex Funding Circle) Miguel Roca, no doubt very confident he'd be in the driving seat by the end of  the night!  
Ratesetter - an award-winning peer-to-peer lending platform, newbies to Ping Pong Fight Club and new arch rivals to Funding Circle.  Was this going to be the making of classic confrontation?  
Ticketmaster - Back once again for the renegade masters! These guys are the world's leading live event ticketing company selling over 465 million tickets each year in over 30 countries worldwide, but would they upstage the favourites and be partying backstage tonight?  
Deliveroo - Online food order and delivery giants back at Ping Pong Fight Club after a one year sabbatical, what kind of ping pong shenanigans would they be serving up at Fight Club?  
Perkbox – These guys were made for Ping Pong Fight Club!  A company that gives employees everything they need to stay motivated and inspired creating a happier, more productive company culture.
'Fighting' broke out from early doors as the players streamed in, limbered up, had their mug shots taken by our amazing photographer Nadia, checked out the opposition and got their 'game face' on.
DJ Thomas from Paris, our resident vibe-master-in-chief set the mood as rest of 'London's finest' arrived, donned their company colours, positioned their headbands, applied the war paint from our face painter Anna (Snapdragon) and headed to the tables, via the bar, naturally!
The Pongbot Team Challenge (a Fight Club favourite) got underway with our very own ping pong robot taking on all-comers in a 60 second dual, with each challenger vying for position on the leader board with limbs, hands and feet frantically co-ordinated the rapid fire response!
Tribes of supporters made a bee-line for the large red cups, heralding the start of Tsingtao's Inter-company Beer Pong Championships, a dangerous pre-warm up for the players but just the right challenge for those on 'strictly social' pursuits!
New to Ping Pong Fight Club this year was our specially adapted Virtual Reality robot return challenge. Set in the comfy surrounding of a New York loft apartment, it was a glimpse into the future of how we might be hosting Fight Club in the future. Massive thanks to Marco and Zeki and 'For Fun Labs' for making a special Ping Pong Fight Club version of Eleven: Table Tennis VR for us. 
We always want to raise the 'fun factor' at Fight Club so we invited world record-breaking ping pong juggler, bon viveur and all round amazing entertainer Rod Laver to perform his world famous cabaret. In the mêlée was our great friend LEON, incredible player and magician to astonish with jaw dropping close-up wizardry!
Ping Pong Fight Club is all about making friends and 'frenemies', a chance to meet like-minded 'rivals' or partake in potentially fruitful networking whether that be across the tables or as a doubles team in our 'buddy-up' tournament. As the Tsingtao flowed and the crowd began to loosen their vocal chords, the players took to the tables.
As the group rounds got underway, the intensity of the players and supporters went up a notch. Every game in the group rounds was a mix of victorious adulation and almost inconsolable disappointment, as the crowds sighed or fist pumped the air in support of their champions!
So many ping pong styles graced the tables, some awkward but very effective strokes, even some we had never seen before! The outwardly attacking players against the more defensive styles were great match-ups. Some players you could tell had had some coaching and were technically easy on the eye, but as we know, it's all down to holding your nerve when its neck and neck!
Perkbox were well, very perky with some very fancy footwork to boot! Deliveroo were dishing up some finely crafted strokes, Tetrad Discovery without their ex champ Jeff, seemed to take their eye off the ball, but not the Tsingtao! Yo Yo were determined to impress and had brought their secret weapon Diego aka 'the leaping gazelle' whilst CarWow were revved up and ready to compete!  Ratesetter were fast and furious and had clearly entered the arena with a 'take no prisoners' attitude, which left Funding Circle to exude their confident swagger and party spirit!
With the crowd now at full tilt DJ Thomas was joined on stage by a troupe of dancers from Yo Yo Wallet, led by their cheer leader-in-chief Rachel, who had formed an on the spot DJ Thomas fan club whilst conducting the heaving mass of ping pong party people!  
Ping Pong Fight Club London was getting to the business end of the tournament as the group winners had been whittled down into the quarter finals, not before those unfortunate not to make the cut, battled it out in the Chancers Championships for another crack at glory!  In a thoroughly entertaining tournament, Jack Scotton of Carwow just pipped Diego 'The leaping gazelle' Milan of Yo Yo Wallet in a hotly contested final.
As fate would have it our two ex champions Miguel Roca (Carwow) and Luis Pinto (Funding Circle) were at opposite ends of the draw. Would they meet in the final? Before that mouth watering proposition, they first had to dispatch their opponents in the semi- finals which they duly did in the shape of Julien Campen and Henry McGee  both from Funding Circle, respectively.  
The spotlights now focused on the championship table but before the two fighters got down to business in front of the baying crowd, Rod Laver appeared from the wings to take centre stage on the table! Dressed to thrill, Rod mesmerized and played the crowd with a mixture of brilliant artistry (including juggling with 5 balls from his mouth!) to sheer comic absurdity!  
Upbeat and up for it after Rod's show the two 'fighters' emerged into the middle of the room to shake hands and warm up amidst an uproar of partisan support from both sides. Struggling to bring the arena under control the two men fighting for their company's honour unleashed their furious skills upon each other (fortunately their was a net in the middle!).
Miguel the consummate artist and somewhat of a ping pong merlin, waving his bat like a wand with precision and dexterity, his subtle flicks and deception on both wings made for an intriguing contest against Luis's all action top spin power play.  In the first, Luis threw everything at Miguel, who seemed to have an answer for everything, breaking his opponent's rhythm and even playing an outrageous shot between his legs in one rally! The second game followed in similar fashion as Miguel's unorthodox but incredibly effective style of play got the better of a hugely worthy opponent – a 2-0 victory for Miguel Roca!
Wild scenes of celebrations as Miguel was sprayed with Tsingtao and paraded aloft around the arena to wild cheers from his CarWow team! Sportingly he embraced Luis as both drank from the trophy, vowing to meet again in 2019!
Ping Pong Fight Club has been one of the best team events Yoyo Wallet has participated in! Ade and his team did an absolutely cracking job organizing and keeping everyone updated leading up to the event as well as making the event an incredibly fun evening!  Whether you are a ping pong fanatic or just enjoy great tunes and camaraderie, Ping Pong Fight Club is an event worth attending! – Rachel Bracken – Yo Yo Wallet
 Roll call of winners Ping Pong Fight Club London 2018
PPFC Winner: Miguel Roca of Carwow / Runner up Luis Pinto of Funding Circle
Team Champions (every point won during tournament): 1st Place: Funding Circle
Chancers Championships winner: Jack Scotton of Carwow  Runner up Diego Milan of Yo Yo Wallet
Social Doubles winners: Adam and Mark of Ticketmaster
Team Pongbot Challenge: Funding Circle
Tsingtao Beer Pong Championships: Carwow (Kate, Bernice, Nicola, and Bella)
VR Ping Pong Challenge winner:  Lee Smith of Funding Circle
See you all next year at Ping Pong Fight Club London 2019!