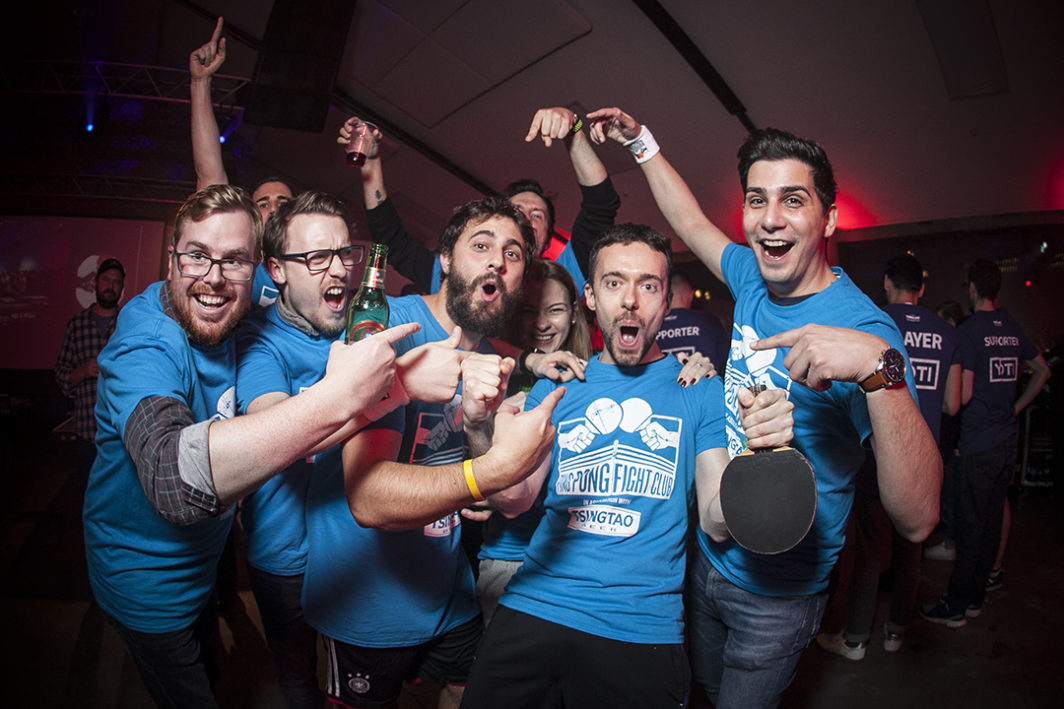 David slays Goliath in epic Ping Pong Fight Club battle
Ping Pong Fight Club London was a cauldron of ping pong party revelry and rivalry as eight maverick companies and their legion of partisan supporters came together for an epic night out on November 23rd at Oval Space in Bethnal Green.
Like out of a ping pong 'Rocky' movie script, ex champion (then at Lendinvest) Francesco Lo Francesco, representing new tech start-up FlyPay, came out fighting (in a repeat of the 2016 final) against reigning champion Luis Pinto from giant fintech company, Funding Circle. Blows were traded and points were racked up in a hugely competitive and raucous battle of ping pong skill, mind games and no shortage of tension, as Lo Franco emerged as the new Ping pong Fight Club Champion of London, held aloft, (never to pay for a drink again) by his exultant colleagues!
Meanwhile, in the social zone…….Tsingtao's Beer Pong Championships whetted ping pong party whistles from the 'first round' (see how we did that!) as The Pongbot Challenge, engaged with its determined challengers on a crusade to return as many balls in 60 seconds as possible! The social ping pong massive made friends, 'friendly enemies', networked, created new business opportunities, viewed some amazing art from the 'Art of Ping Pong' and definitely kept the bar busy!
Classic 'chunes' filled Oval Space from the masterly mixologist DJ Thomas, punctuated only by scoring updates from MC Ade Leigh and some legendary introductions, namely Gardner Dale, who had flown in from Atlanta, USA just to be at Ping Pong Fight Club and Jeff Prior from Tetrad Discovery, who honoured a bet after winning PPFC Liverpool and had his right arm tattooed with the PPFC logo!