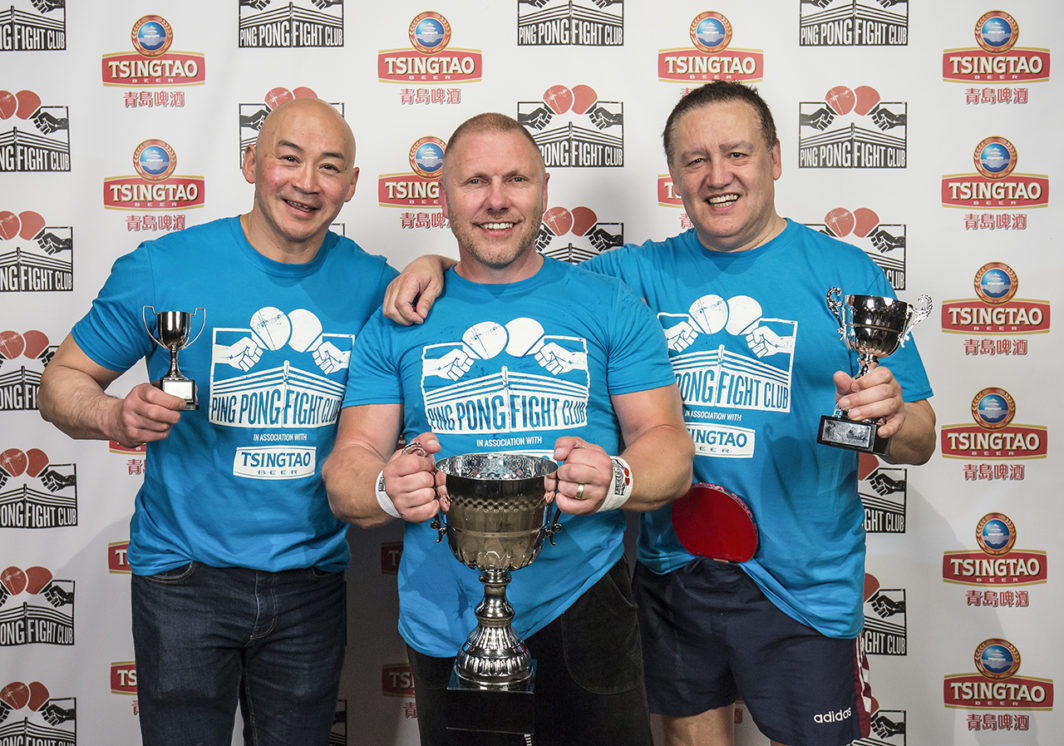 Signature Living walk away with the ping pong bragging rights of the city!
The stage was set for a night of fierce competition as Liverpool's finest brought their gladiators into the Ping Pong Fight Club arena at Camp and Furnace, ready to do battle (and party) for their company's honour, where paddles would take the place of knuckles!
The night started in 'friendly' fashion, as our vibe master-in-chief DJ Thomas got everyone in the mood while players and supporters adorned their tribal colours and Fight Club headbands. Soon enough, the Furnace became a hive of activity as the multi-coloured crowd took to the fourteen Tsingtao tables.
Players warmed up and scoped out the opposition before the 'fight' whilst supporters enjoyed the more social side of Fight Club, such as the 'Pongbot Challenge' (firing up to 70 balls a minute at its opponents!), Inter-company Beer Pong, doubles tournaments and forging new friendships and connections with people from other sectors: all here to enjoy a brilliant night out.

The room echoed with the sound of hundreds of ping pong balls, laughter and - of course - no shortage of Tsingtao Beer! Soon enough faces were transformed with glittering 'battle scars and butterflies' (and even glitzy company logos!) courtesy of our resident face painter 'Face The Strange'.  
Master of ceremonies Ade welcomed and announced all the teams to plenty of whooping, hollering and mischievous banter.  Special attention was given to Signature Living's first all-women team to enter PPFC. They were raw novices but wanted to show that the girls were doing it for themselves, and in considerable style!
As the group rounds got underway, we witnessed mainly a variety of straightforward ping pong styles.  However, there were a few well-honed and crafty strokes on display, no doubt from years of practice. It soon became evident who the front-runners were.  Would it be defending champion Jeff Prior from bio-tech outfit Tetrad Discovery, Roy Cunningham from Santander who had carved his way through the field, or Lawrence Kenwright and Peter Lee from Signature Living, who were looking menacing and drawing huge crowds of partisan support.
For those unfortunate not to make the cut, the Chancers Championships awaited and another chance at glory with Bern from Signature Living reigning victorious over Andy Cahill from fun-loving lawyers, GW Legal, in a hotly contested final.  The staff from GW Legal were out to prove that the size of your supporters' crowd doesn't matter, as they were on a mission to give the loudest encouragement on the night to their players!
With the crowd now at full tilt, dancing, playing and getting up to plenty of ping pong shenanigans, Ping Pong Fight Club Liverpool got to the business-end of the tournament with an all-Signature Living final featuring Lawrence Kenwright against his old compatriot Peter Lee, both having dispatched Roy and Jeff in the semi-finals respectively.

The spotlights now focused on the championship table as the two 'fighters' came to the middle of the room to shake hands and loosen up.  Lawrence had claimed his best ping pong was 25 years behind him! So, being the Chairman and CEO would he be given too much respect from Peter? Not a chance!
In the spirit of Fight Club the battle was fast and furious, Lawrence the all-out aggressor on both flanks, Peter the measured blocker and counter-attacker. It proved to be a spectacle of skill and no shortage of sweat as Lawrence did indeed roll back the years to become our PPFC Champion Liverpool 2018! Truth is: every one of our amazing companies were winners on the night.
Here's the roll call of winners from the night:
PPFC Liverpool Winner: Lawrence Kenwright - Signature Living

Runner up: Peter Lee - Signature Living

PPFC Liverpool Team Champions: Signature Living
Chancers Champion: Bern Giam of Signature Living

Runner up Andy Cahill GW Legal

Pongbot Challenge Winner: Brian - Baltic Triangle (score of 52)
Tsingtao Beer Pong Champions: Baltic Triangle
Doubles Champions: Chris and Matt from GW Legal
Loudest group of supporters (decibels per person!): GW Legal
Attitude award – All-girls team from Signature Living We'll let our newest PPFC Liverpool Champion have the last word:  
"Ping Pong Fight Club gave our company a great opportunity to not only polish up on our Ping Pong skills, it also gave us a reason to pull together, we spent the entire night shouting, hugging and having a ball. The team are still talking about it now and cannot wait for next year. This has to be on a company bucket list, for any company wanting to unify its business" – Lawrence Kenwright – CEO Signature Living Group